If you are looking for another way to top off your kitchen face lift, look no further than cabinet hardware. Fun little accessories that can liven up any kitchen, or even bathroom. Available in a large quantity of shapes and sizes, finishes and materials, hardware is the final finishing touch for your project. Many cabinet styles require the use of hardware, including full overlay door styles and European construction cabinets, for ease of use, so be sure not to overlook this fun source of additional personalization. In the world of suburban track homes, this quick and easy afternoon project is a definite must to put a little more you in your kitchen.
This rustic cup pull from Rocky Mountain Hardware is a great option for drawers. It is shown in copper with an aged patina. The list price for this pull is $45 and measures 3 11/16" oc. There is a larger option, which is 5 5/8"oc and is $61.00 This cup pull is also a green option, being made of recycled materials.
This beautiful pull, also from Rocky Mountain Hardware has beautiful lines and can be used in many different installations. The Quatrafoil cabinet pull is available in several finishes, patina's, and the price starts at $49 and is available in two sizes. This knob is made of recycled materials.
This contemporary knob from SA Baxter shows that pulls and knobs don't have to be traditional. There are millions of options that are available to create your more contemporary interior. SA Baxter is a green manufacturer, as their knobs, pulls, and other hardware are made using recycled materials, there is no waste water produced, and even their machines are newer and produce less fumes and gasses.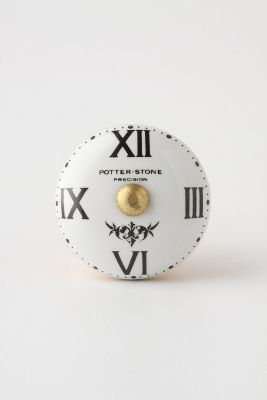 This ceramic on brass reproduction would be great in a bathroom, or even on a piece of furniture or an island. This piece is available from Anthropologie, and starts at $8
Maybe you want to add some true character? This frog pull has a lot of animal and insect pull cousins, including bat's, birds, butterflies, grasshoppers, and so much more. Available from Martin Pierce and are priced at around $113 and available in a few different finishes and sizes.