While trying to find a new home, I keep seeing a white painted fireplaces in many of the homes. There isn't anything wrong with a white painted fireplace, as long as it's maintained, and kept clean. Many that I have seen have been used a lot, and not cleaned, so the white paint has black soot above the fireplace. One of the houses I have an offer on has one of these fireplaces, and I have decided that a great alternative to the white paint, is to tile the fireplace.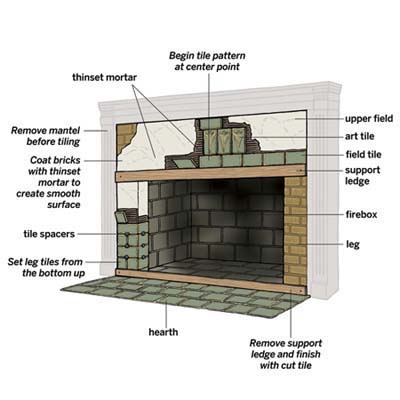 This diagram from This Old House shows any DIYer how to tile over their own existing fireplace in order to create their own updated and modern fireplace.
This stainless steel mosaic tile is a great addition to a fire place as well. It highly modernizes the design, and gives a great contemporary update to the space.
This lovely design was installed by T.C. Tile and Stone Services in California, shows how you can take a brick fireplace and create a new focal point in your room with tile.
Note: I will be sure to put up pictures of my fireplace once I get it done. Now that you realize that tiling a fireplace is easy, and easy to do on your own, fee free to take some inspiration, and update your own space.