I do love me some good purple interiors. Here are some items to give you inspiration, and get you started with your new purple space. In it's darker form, this royal color is rich and dramatic, and add's a luxurious feel to any space. Purple can be an excellent accent color, and can give your color scheme depth. Lighter shades of purple can bring the same qualities of rest and relaxation as various shades of blue, and won't result in a cold or chilly feel as blue can. Complimentary color to purple is orange, however analogous colors include Blue and Red.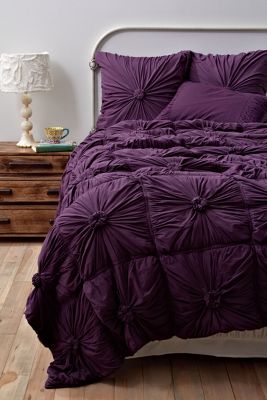 The Rosette Quilt by Anthropologie in Purple is a beautifully crafted and a great look for your space. Priced from $248 This quilt has other available colors and accessories for mixing and matching.
BEHR Ultra Exotic Purple #660B-7 is a great dark purple to use as the main color, or an accent color in your space.
Another color from BEHR Ultra, Purple Cream #670C-3
Orchids are always a great way to add pop's of color, if your not fully committed to painting the room.
Now we can't forget lighting. This 1-Light Pendant by Illumine in Brushed Nickle with Purple Swirl Glass is a great accent to a kitchen or any other space.