I love a good old shaker door. The clean lines offer minimal detail that can then be accented by creative and fun hardware, and the door style is typically very easy to clean. That being said, I find myself falling in love with a new style of cabinet door styles I am calling the "Updated Shaker".
Similar to a traditional shaker, these door styles have minimal frame detailing, however an extra little moulding along the edge of the center panel. Often, these doors are less expensive than some wider railed shaker options, and lend themselves to more of a transitional kitchen.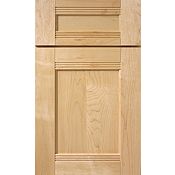 The Thomasville Cabinetry Saxony Doorstyle shows a traditional shaker enriched with a triple bead molding detail on the horizontal interior edges of the center panel. Shown on both the drawer and door.
This Kraftmaid door is available at Lowes, and is called the Ashbury. A traditional shaker with an extra beading around the center of the mitered frame can lend itself to a faux inset.
This doorstyle from Timberlake Cabinetry shows the same molding application in the interior rails as some of the previous door styles I have shown in this post.