I love words, and I love letters, the funkier the better. So how would you work them into your designs. Words and typography can be worked into any design in many different ways. The seamless integration of typography in designs can not only add character and personality, but conversational pieces as well as artistic flair. Here are just a few ways you can add typography, as well as some great examples.
This Interior, and wall treatment, available from Murals Your Way shows one creative way to use typography.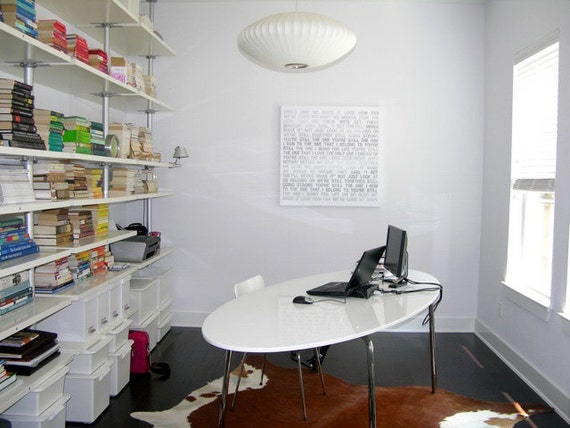 This custom art work by Stephanie Morris is featured on the hand made goods site, Etsy allows the designer, or the DIYer to customize their own typographical piece using specified colors, and the lyrics from a favorite song. Just by doing a quick search on Etsy, there are a ton of typographical prints, canvases, and custom paintings available to suit your needs and style.
The use of wood letter cutouts, like this from Craftcuts.com allows you to write any word you want, in one font or a collection of various fonts, sizes, etc. allows you to create a fun piece that both shows personality, but fun as well.
If you don't want to add typography to the walls, then furnishings with printed or painted typography is always a good muted option. For example, this piece which was modified using Modello Designs Decorative Masking Products.