Ok, so my last post was about crisp grey colors that are exploding in popularity. So this one, I am going to completely contradict myself and go in the opposite direction. I am going with another collection of colors in the Sherwin Williams 2014 Color Forecast,
Intrinsic
! Bright colors that can be used as wall colors, or even accent or accessory colors.
Now, I bet your thinking, "Oh my, those are bright colors!" Well, they look great. Even together they add fun flair to any space. The scene to the left shows a living room with all three colors on the walls and ceiling.
Now, don't get me wrong, I am not advocating going out and painting this room....unless you really do love it, but I think that bright colors can add to a space. Don't be afraid of color! To the left, you can see the same room painted with only one of the colors, and a more neutral lighter color on the walls. That bright pop of "Dynamo" on the center wall creates personality in the space. (And just in case your wondering, the new wall color is
Sherwin Williams SW 6156 Ramie
)
Now, if you are renting, you could easily paint one wall and enjoy the space, and just paint it back before you leave. I know the accent wall has been a bit overdone, however it is still a super easy way to add to any space.
You don't have to use these colors just in your space, I am sure you have seen them raiding the racks at your local clothing store. There are also a large selection of brightly colored accessories, lighting fixtures, mirrors, and other materials you can accessorize your space with.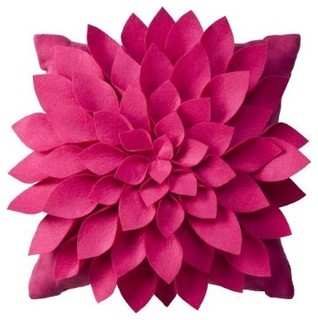 Felt Flower Pillow $15
Color isn't the enemy! There are books, shows, and a ton of resources available to give you inspiration and ideas for using color in your decor.
Like this great article on using color in an open floor plan
. Or
this article by Pa
ul Anatier on when to use warm or cool hue
s
.
So what are you waiting for, welcome color into your space!