Many of us who have a 1980's and 1990's house have the same thing. Outdated and ugly brass fixtures. We all have them, we all hate them, and we all want to replace them. Especially now that they are probably showing their age with tarnishing and deteriorating finishes, leaks, and oxidation. It's ok, we should all know we aren't alone.
Today's finishes aren't limited to Chrome and Brushed Nickel. For those of you that still love the warmth and class that Brass once showed, there is still something perfect for you. There are still golden finishes that are gaining in popularity. (I guess everything does come back around at some point!) Here are some of my favorite finishes that are perfect for people who love the gold finishes, or who are on top of the fashion game!
Here it is again in a kitchen faucet. This particular faucet is the Kohler Karbon Articulating Faucet, which list at around $1500. This finish is truly a way to make a statement. It hasn't grown widespread like Brass did in the 80's and 90's, and like Brushed Nickel has in the 2000's and 2010's. Because of so many finish offerings today, I don't think it will be come so widespread, so you can really make a statement and have something unique.
This Polished Copper faucet by Newport Brass is called the Metropole. I very popular design, in a unique finish to Newport Brass. It looks just like a shiny new penny. This faucet is priced from around $1207. Many of Newport Brass's faucet offerings are available in this finish, which is again, a warm and unique finish. One thing I dislike about chrome is that it can be so cold.
Newport Brass has the largest selection of gold finishes including Polished Copper, Brushed Bronze, French Gold, Polished Brass, Brushed Brass, and so much more. Newport Brass also has a wide variety of faucet designs, and nearly all faucets are available in all 27 finishes. They are typically made to order, which makes them the best way to customize your faucet. They have a full array of faucets including bath, kitchen, shower, and accessories to coordinate your whole home.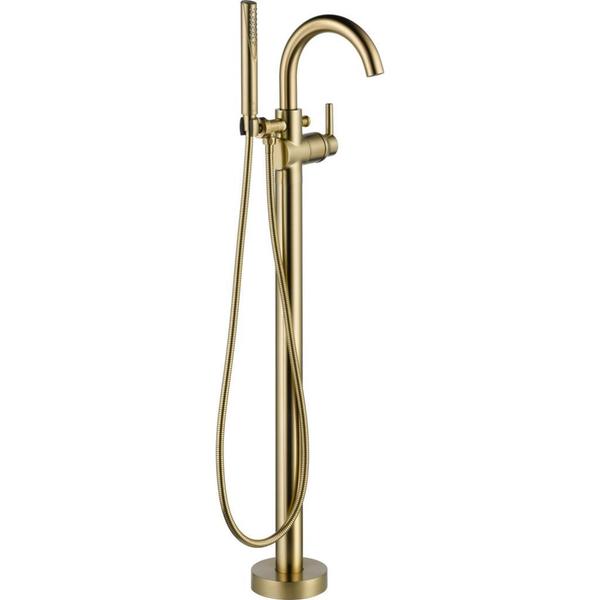 Delta Trinsic Floor Mount Tub Filler in Champagne Bronze
And this last faucet is the Delta Trinsic Floor Mount Tub Filler in Champagne Bronze. I love the mix of Traditional finishes with contemporary faucet design. This is a great way to create a custom space. Why stick to the same old boring Brushed Nickel if you don't want to. Like Newport Brass, Delta has a full variety of coordinating faucets and accessories to match your whole home.
Most people can't wait to get rid of their outdated gold faucets. Some people still love the gold, if that's you, rest assured, you will find something to fit your taste. Traditional, contemporary, and transitional styles are available in these fun new finishes. And if you shop with the major brands, you can create a whole suite of fixtures and accessories to make a complete space.