Spring is coming, and it is time to start dusting off the glue gun and get your spring decor on. Here is a collection of some of my favorite spring interiors with links to products and D-I-Y's for obtaining the same looks in your own home. One of the things I love most about Spring, is how easy it is to decorate for.
I am in love with these soft blue vases with pink tulips. Tulips are a spring essential, and I love how they look. They add color, and brighten up a space. Tulips are also available in a wide variety of colors, so you have quite a few options to coordinate with your space. Yellow, white, pink, even orange, purple, or red. You can mix and match colors or go with all the same colors.
Now to create this look. I found similar vases
here
,
here
, and
here
. You can purchase tulips at your local grocery store. I don't recommend buying flowers online, but if you must, you can find them
here
. This is a quick and simple arrangement that can be done on a mantle, hearth, entry table, or anywhere else in the house. This is a low skill project that doesn't require any special equipment (like that glue gun!) Just a few simple notes: I typically like doing these arrangements in odd numbers, three or five vases, etc. Also, you don't have to fill all the vases with flowers. Note how this arrangement has two of the four vases filled with flowers.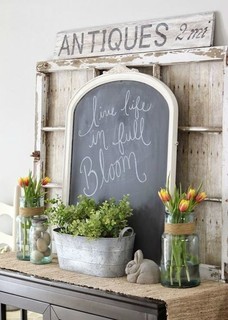 ComfyDweling.com
This next image, much like the first one, is easy and obtainable in many areas of your home. From the mantle to the entry table, even the front porch. This vignette features a few items:
This vignette is easy to make look great. Notice again, there are three vases, (I love them in odd numbers!). Two one one side, and one on the other. The bunny helps even out the vignette with the centered greenery in a tin planter, the chalk board, and the antique window.
This lovely table setting is perfect for Spring. The white ceramics are beautiful, and the lilac's are even better. Here are some of the items you will need to duplicate this space:
This table setting is very easy to duplicate. I have always believed that when you don't force a table setting, it looks natural. Less can definitely be more, and don't try to force it. If you notice this setting, there is room to breathe. There isn't so much on the table that you can still actually see the table.
Fill those mason jars with lemon aid, and your ready for a Sunday Spring Brunch. Add some macaroons or petite fours, and your golden!
FrugalHomeMaker.com
Now for the DIY's.
One spring item that I love, is this amazing DIY tulip wreath that is not only easy to put together, but inexpensive, and will brighten up and liven up your front door. Some of the item's you will need for this tutorial are:
Follow along with the tutorial, and you will have a great wreathe to grace the front door and welcome your guests. (Including the Easter Bunny!) If you don't want to use only tulips, then shop around Michael's or Hobby Lobby and find a spring assortment that will make you happy. Hydrangeas, lilac's, lilies, any spring bloom will look great.
This next DIY is fabulous. It includes Mason Jars. How can you go wrong with Mason Jars? Painted Mason Jars are a big trend right now. Forth this DIY, you will need the following:
Now, be sure to follow along the tutorial. This tutorial has you paint the interior of the mason jar, but you can also paint the exterior and sand some areas for a more shabby chic distressed look. If you go that route, I would recommend Chalk Paint.
Happy Spring and Happy Decorating!