I am pretty sure all of us are getting a little older every day, as opposed to getting younger every day. Along with daily life, there are many simple things that we should be aware of that will make life a little easier when we get a little older, as well as if you break your arm.
One simple quick fix is switching out all of your traditional light switches with Rocker Style switches like this one from Lutron is a simple way to control your lighting with an elbow, knuckle, etc.
Switching out any knob style door knobs with this lever style from Schlage allow easy entry into any room, even when your arms are full with children, laundry, or a pile of books.
What about those cabinet knobs. Try opening those with one finger. Switching knob style cabinet hardware with pulls like the one above from Amerock are easy to open with limited effort.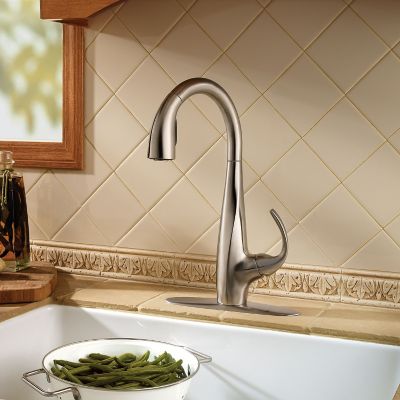 This pull down faucet from Price Pfister is a great option for the kitchen, as it's single handle control is easy to use with minimal effort. There are also some nice TOUCH faucets appearing on the market that are even easier to control. Single lever faucets are available for every sink in the house, including the bathrooms and laundry room.