Thanksgiving is just around the corner, so what could possibly be a better post, than setting that amazing feast table?
So, let me tell you a little about me, and my family when it comes to holiday feasts, we are the poster child for lazy meals. We load up the island and treat it like a big buffet, if you want to eat, get off your butt and grab a plate. There is nothing on the table, because the more you put there the more you gotta clean up. You will only find the things that are required, a glass for your one beverage of choice, napkin, and a fork. I wouldn't know the proper way to set a table if it killed me. So when I got married, I was surprised to see that there are actually people who know how to set the table. Can look at a place setting and know exactly which bread roll is theirs, and which wine glass is theirs. This concept is completely foreign to me. So this is one reason I wanted to write this post, help the sisters (like me) out there throw an amazing holiday feast, with a properly set table that looks amazing.
Lets start out by the place settings themselves. What goes where? I learned an awesome trick at a wedding once. If you make that "OK" symbol with your hands, link the index and thumb, your Left hand makes a "B" and Right hand makes a "D", bread and drink!
I found this diagram which is an excellent display of what goes where. When dining, you will use your utensils from the outside in. It is somewhat obvious since your salad fork is on the outside, followed by dinner, then dessert. There isn't much more I can talk about here, the picture pretty much explains it all.
Now that we have that figured out, lets go over some amazing fall tablescapes to get you inspired for your holiday entertaining. Now if you don't already follow my Harvest Season Board on Pinterest, you should. I have some amazing ideas for tablescapes from fun and festive to formal and ornate. There truly is something
This tablescape features one very necessary element to any tablescape or vignette you can create, and that is layers. If you notice, they used a square charger, large plate, napkin, small plate and then the pumpkin. Creating layers is a great way to also show different textures. Just like in this display, the plaid plate, golden pumpkin, and then the rattan textured charger. They all blend well with the table runner and leaf detail on the candlesticks.
When creating your perfect fall table, start layering right there in the store. Play with the plates, linens, and decorative pieces to create a look all your own. Play with shapes, textures, and like this design, even various prints. "Matchy Matchy" has it's place, and so does eclectic and fun, shown here.
Also, when trying to recreate this look, Home Goods is my favorite place to shop. They have great prices and selection.
Want to play it safe, or still not sure what to do with textures and patterns? Try something like this tablescape by Ann West Interiors. She created a table scape by simply placing white pumpkins of various sizes and shapes down the center of the table. The use of white candles of various heights creates even more stunning interest. The hurricanes with candles and leaves create height.
When looking for pumpkins, consider foam craft pumpkins, that can be used year after year. Fake not your thing, often you can find them in bulk at places like grocery stores, home improvement stores, or of course, your local pumpkin patch.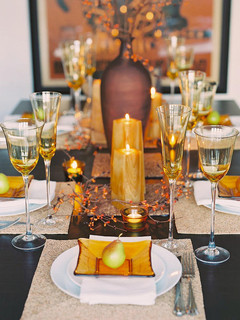 Glittering Table by
HGTV
This amber tablescape by HGTV features similar colored glass ornaments including stemware and accent pieces, candles, and foliage. A lovely table setting that is both classic and timeless. This scape can also be done year after year, and tweaks in foliage, can also be used for Christmas.
A tablescape like this can be easily created using pieces from Pier One, or even Crate and Barrel. Be careful with the amber colored dishes and shopping multiple stores. Some might be more yellow, and some more orange. You want it to match!
When creating your look, shop around. This can get expensive. Especially if you need to create many place settings. This is one reason why I love places like Home Goods, Marshall's, and Ross. They often have some great pieces and very affordable. The biggest challenge at these stores will be finding the quantity you need, again if you have a lot of place settings.
Enjoy, and again, follow my Harvest Season board on Pinterest for even more How-To's and inspirational photos.